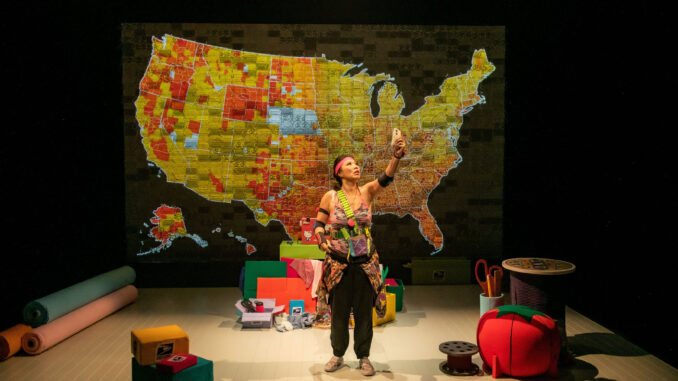 When Kristina Wong formed a group called the Auntie Sewing Squad (ASS) – a collection organized through Facebook of mostly Asian women who arranged to sew masks for at-risk people, front-line workers, and vulnerable communities at a point during the pandemic when nobody could find masks anywhere. Eventually, the assemblage grew into 800 participants across 33 states – including children and her own mother – who donated more than 300,000 masks. Inspired by her experiences with the group, Wong developed an award-winning solo show. KRISTINA WONG, SWEATSHOP OVERLORD, which is currently at the Kirk Douglas Theatre, a co-production of Center Theatre Group and East West Players (with additional support from the Skirball Cultural Center). To add a dollop of frosting to the cake, for her efforts, Wong was one of six recipients of this year's Doris Duke Artist Awards, an honor indeed.
Initially, Wong performed bits and pieces of her idea and streamed them during those isolated COVID days in 2020. In September 2021, New York Theatre Workshop opened its first post-shutdown season with Wong's show; and soon she was a 2022 Pulitzer Prize finalist for drama. Even though it's set during the pandemic, Wong does not consider this a pandemic show, but rather an exploration of left-over and perhaps unresolved feelings from the COVID era coupled with the inestimable power of community: "By remembering, we have a chance to recover that small window to ask, 'What could we have done differently?'…I'm afraid that maybe we are leaving this more pissed off, more bitter, more jaded, more angry." Wong sees her show as a therapeutic and healing place for audiences, a safe haven for them to recall and relive experiences that may have left them with mixed and unexplored reactions to their enforced seclusion and the losses which they sustained.
From the moment that Kristina Wong stepped onto the stage, fireworks began to crackle and dance. With an energy that defined Wong's performance, she turned the pandemic upside down as she wove her personal stories together with the events that all of us experienced during those fateful pandemic years. Set in Los Angeles – which Wong thankfully revisits at the Kirk Douglas Theatre – KRISTINA WONG, SWEATSHOP OVERLORD tells the tale of a frustrated performer living in COVID times, when every theater is dark and everyone is relegated to a self-imposed quarantine. What to do?
Happily, a creative and quirky mind like Wong's was bound to come up with the perfect solution: why not put her sewing skills to good use by making masks to fill the looming shortage everywhere? And what if there was a shortage of elastic for the masks? Perhaps bra straps would do just as well. And why not enlist family, friends, and everyone she knows to get involved? Little did she suspect that all those "aunties" would soon grow into a whopping 800 over 33 states – and that the Auntie Sewing Squad would produce 300,000 masks before they retired their sewing machines?
Under the skilled direction of Chay Yew, Wong takes the audience through her sometimes convoluted – and frequently hysterical – problem-solving techniques through the advent of life-saving vaccines – and beyond. What of antivaxxers? What about Black Lives Matter? What about January 6? What of an epidemic of anti-Asian violence? The audience gets to take a journey down memory lane with Wong – sometimes laughing out loud and sometimes wiping a tear away. This is an odyssey through isolation, death, love, community, and a kaleidoscope of conflicting emotions – but, above all, hope. Wong has reached the epitome of her skills as a performer and as a person who has faced adversity and come out the other end the better for it. This is Wong's not-to-be-missed solo voyage which everyone is invited to take. It will tweak audience memories and perhaps help heal old scars. At the same time, KRISTINA WONG SWEATSHOP OVERLORD will entertain and cheer up a COVID-fatigued audience with a message of community and hope.
KRISTINA WONG, SWEATSHOP OVERLORD runs through March 15, 2023, with performances at 8 p.m. on Friday (2/17), Saturday (2/18), Sunday (2/19), at 6:30 p.m. on Wednesday (2/22), at 8 p.m. on Tuesday (2/28), Wednesday (3/8), and at 2 p.m. on Saturday (3/11). There are student matinees at 10:45 on 2/21, 2/22, and 3/1, as well as an American Express Card Member performance at 8 p.m. on 2/23, an ACCESS performance at 2 p.m. on 3/11, and LA Theatre Community Night at 8 p.m. on 2/28. The Kirk Douglas Theatre is located at 9820 Washington Blvd., Culver City, CA 90232. Tickets start at $30. For information and reservations, phone 213-628-2772 or go online.