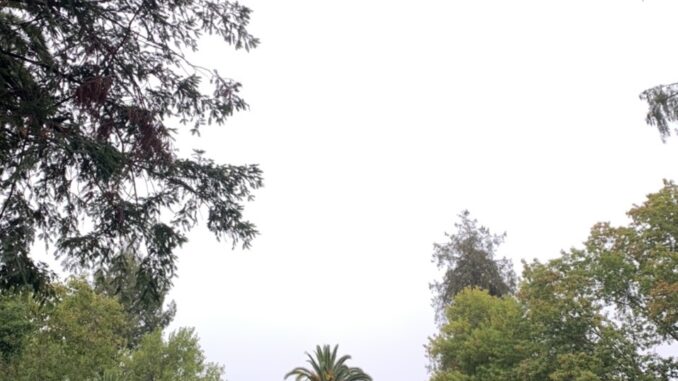 Shout out to Carol and the friendly Boston comrades! #thumbsup
Ah, to be back downtown at quintessential Healdsburg where wineries and tasty treats are plentiful, as well as wakable or bikable in this picture perfect west California town. Being first time visitors, we decided to intimately get to know the food and wine scene diving in the best way how: a gourmet food and wine walking tour. Enter Wine Country Walking Tours's 'Wine and Food Pairing Tour'. Running all star service for the past 10 years, this wife and husband run business knocks it out of the park.
We met at the center, or plaza, where a plethora of trees including a tall, pretty palm ushered us toward the large gazebo. There was a family of four from Boston and another couple also from Boston. The Chicago partners were outnumbered 6 to 2. This tour was led by the sweet, well-versed and ever accommodating Carol, a local resident. A brief introduction to the history of Healdsburg including that after 7 years of squatting, a Midwesterner originally purchased the area, giving the town its founding date in 1857. Then on to the real business: that wine should make food better. Carol advised to take three sips; the first for cleansing, the second to brighten up the palate, with the third one being time enough for the real tasting. As always; drink more H2O. That said, the walking commenced and off to our first stop.
"Life is too short to drink anything but great wine" #williamsonwines Imported Gouda from Holland (pictured center) Chocolate truffle for dessert anyone?
Four minutes later we arrived at a natural light filled middle room at Williamson Wines who proudly boast of their award winning single varietal vineyards and elegantly pair bites with "approachable" wine. You say approachable, we say delectable. The savory combinations hit the taste buds just right, brilliantly blending, with hints of this and gently elevated that "disappearing in the back like a whisper". This feat was washed down smoothly with a swig of either Pinot Noir or Zinfandel from our wine glasses engraved with classy quotes and even classier finishes on the reds tried. That's the taste of zero pesticides, perfectly picked grapes by using solely what the vineyard provides to produce each and every bottle.
Great wine, pizza, games and masks #covidessentials
The route covered three more stops. Roadhouse Winery starring "three rude guys and alot of wine" where healthy portions of basil pizza paired great with grassy notes from the wine. The vibe was laid back with old school record players, plenty of plants, pleasing music playing and endearingly the Bostonians invited us to sit with them. Winning. Feeling good, well fed, and adequately tipsy we strolled over to Russian River Tea Co and had a relaxing moment drinking warm, soft carrot cake tea that wonderfully soothed as it broke up our palates. We found out that tea is a lot like wine as the climate where it is grown and the minerals in the soil determine different notes. Oh and P.S. tea contains 8 times less caffeine than coffee. Just throwing that tidbit out there. Lastly and sadly as we didn't want to stop the party, we sipped Spicy Vines Cabernet Rosé and devoured KINSmoke pulled pork for the pièce de résistance. Not too big into coleslaw yet it was made more enjoyable with the 2020 "Sunnydaze" Sauvignon Blanc which added a nice and crisp flavor with hints of citrus. Reds Reagan contemporary art lined the space and vibrant colors popped contrasting with the dark lacquered decor.
Such sweet scents and calming tea at Russian River Tea Co. More cookies and tea please!
Check out the dimpled smile twins! So happy with their award winning wine and delicious pulled pork #SpicyVines
Wine Country Walking Tours is a foodie's dream. By the end of this unique experience the Chicagoans had relished the Boston group's accent and found out where to go for the best clam 'chowda'. We learned more about the history, culture and culinary scene in Healdsburg as Carol has lived in the area for thirty years. We enjoyed one another's company with great food and memorable wine pairings. Highly recommend this traversing tour when in Sonoma's finest wine country as it is captivating, informative and a romantic way to see and taste the town's best spots. Hands down the fastest and most fun four hours guaranteed with this unforgettable walking tour. Hover over to https://winecountrywalkingtours.com to get your fix of this carefully thought out exquisite mix.
Photo Credit: Yvonne Pulido and Wine Country Walking Tours