Stand-up comedian Mike Birbiglia weaves the personal into his yarns as he tells the story of his somewhat reluctant fatherhood with all its crises and rewards. Written by Mike Birbiglia (with additional writing by Jennifer Hope Stein), THE NEW ONE is directed by Seth Barrish. In a gentle manner punctuated by traces of wit and wisdom, Birbiglia is brimming with warmth and self questioning as he lets the audience in on his thoughts and feelings about paternity – from the clear-cut affirmation of a bachelor's childless future to the half-hearted tolerance of a wife's pregnancy to the final acceptance of a new life filled with the love – and stress – that being a dad brings.
In Birbiglia's own words, "I started talking about my relationship not with my daughter but with my couch (while hugging him in its warm embrace)…and then it started connecting with people of all ages funnily enough…I had been reluctant to have a child basically my whole life, and then my wife and I decided to have a child." Above all, Birbiglia is a teller of tales; and his current story seemed to focus on a specific segment of the audience. Although his concentration on procreation might limit the appeal of THE NEW ONE, it is difficult to discount such a warm-hearted, frequently self-deprecating, definitely humble kind of guy. Birbiglia even intertwines his wife's poetry into the piece while laughing at himself all the while. He also manages to add some very personal information about his various medical issues, including a sleeping disorder requiring him to be trussed up in bed (while the family kitty lets him know that he's an interloper in the room).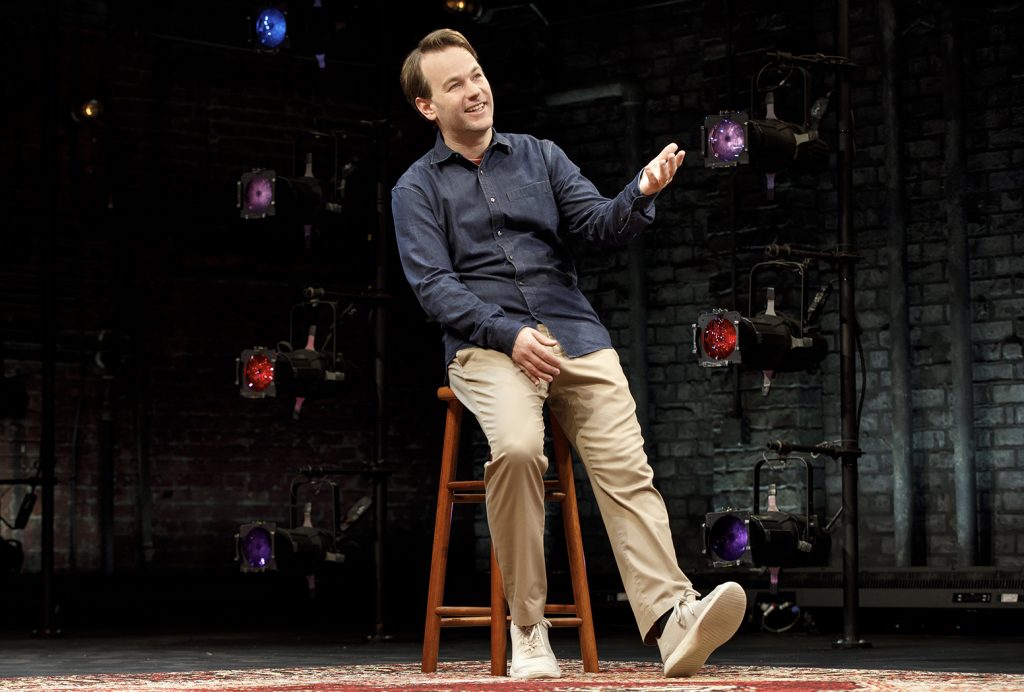 Beowulf Boritt's scenic design is simple but appropriate. After all, what does a stand-up comedian need besides a stool to rest his intermittently weary bones – with the occasional prop or two to enhance his dialogue? In fact, one of the more surprising and fun moments just happens to concern props – lots of them – which almost crowd Birbiglia off the stage. Adjectives like "cute" and "sweet" highlight his performance, and he has a keen sense of timing and body language which sometimes seem more potent than the words he says.
In all, THE NEW ONE is pleasant and humorous as it describes the pitfalls of the journey from carefree bachelor to parent. At the same time, the piece may be more appropriate for Netflix (one of Birbiglia's planned stops), or perhaps a smaller venue than the huge Ahmanson. Intimacy on such a grand scale may lose some of what Birbiglia seems to be striving for. At the same time, bursts of laughter often filled the theater – suggesting that Birbiglia's fans really understand where he is coming from and find him a highly entertaining comic.
THE NEW ONE runs through November 24, 2019, with performances at 8 p.m. on Tuesdays through Fridays, at 2 p.m. and 8 p.m. on Saturdays, and at 1 p.m. and 6:30 p.m. on Sundays (no 8 p.m. performance on 10/31; added 2 p.m. performance on Thursday 11/21; no 6:30 p.m. performance on Sunday 11/24). The Ahmanson Theatre is located at the Music Center, 135 N. Grand Avenue, Los Angeles, CA 90012. Tickets range from $35 to $145. For information and reservations, call 213-972-4400 or go online.