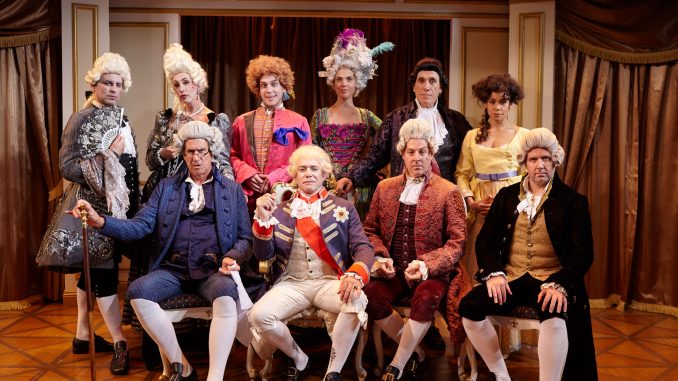 By Kathy Carpenter
North Coast Repertory Theatre opens Season 38 with "Amadeus". A brilliantly acted Masterpiece." Written by Peter Shaffer and Directed by Richard Baird.
What a way to start the season. North Coast Rep is always impressive, but the story of Amadeus what a great choice. The action takes place in Vienna in November 1823 and in recall, the decade 1781-1791. The main character is Antonio Salieri played by Tony Amendola. He The audience was captivated with his storytelling. A tale based on whispers of the time that Salieri poisoned Wolfgang Amadeus Mozart. If any of the tale is true one can see how he may of played a part in Mozart's death. At any rate it is a heck of a story.
I did not see the movie version of Amadeus but wish I had. One gal from the audience said the play followed it pretty closely. Which gave the Rep a challenge in itself. Expectations. Prior viewers are the worst critics. This audience raved and gave a standing ovation.
The set exuded a richness with off white deco walls with gold trim, and gold curtains adorning the doors. Simple and classy.
The play opens with the whispers about Mozart's suspected murder. Then we move into Saleieri's wheelchair last night of his life confession. Antonio Salieri was a court composer, who worked hard for what he had. Mozart was a musical prodigy. Who as portrayed in this show, a child who never grew up. He was quite vulgar, enthusiastic, with an unassuming ego, and wanted to please, especially his father. He could play by ear and write complete scores in a week. Salieri was envious. He acted as friend but plotted his downfall.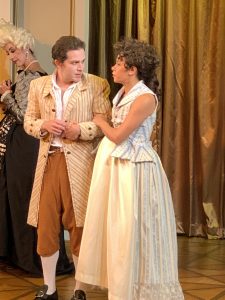 Rafael Goldstein played Amadeus. Showcasing his talent from childlike to devastation He was more than up to the case. My favorite role was Louis Lotorto, playing the Emperor Joseph II, his command of the comic right on point. Katherina Vavalieri, played by Leigh Ellen Akin, who added her vocal talent to the mix. Amadeus married Constance Weber, played by delightful Kathryn Tkel. She played the role perfectly. Christopher M. Williams, and Alice Sherman, played Venticelli 1 and 2. The ones who knew all and kept Salieri informed. Both dressed to the tee and doing an excellent job. The cast round out with Count Johnn Kilian Von Strack, Count Orsini-Rosenberg, and aron Gottfried Van Swieten. Nick Kennedy, Andrew Oswald and Andrew Barnicle.The cast rocked the epic play.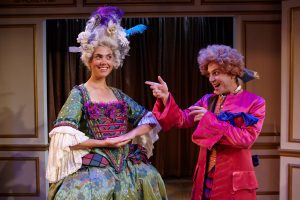 The costumes fabulous. Giving us the total 18th century vibe. Talk about escaping for a couple hours, I never though about today's world once. Nothing like an era piece.
Not that many plays are a walk back in a time no us knew. A pleasant adventure not to be missed.
Amadeus
September 4 – October 6, 2019
North Coast Repertory Theatre
987 Lomas Santa Fe Dr. Suite D
Solana Beach CA
Box Office 858.481.1055
Up Next
The Sunshine Boys
October 23 – November 17, 2019