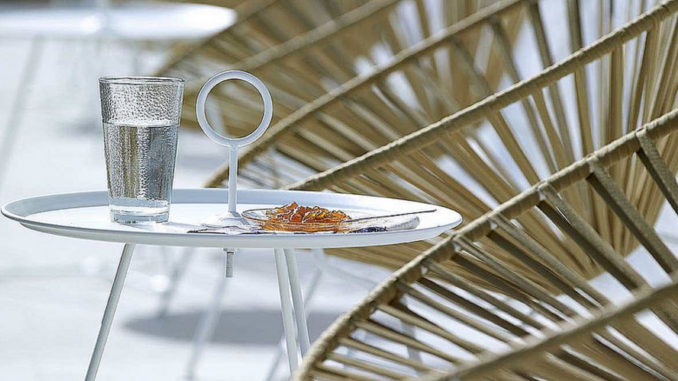 Kythnos is a Greek island just in the outskirts of Athens. It is the municipality in the Western Cyclades, between Kea and Serifos. It has more than 70 beaches, many of which are inaccessible by road. The most famous one, and my favourite, is Kolona, which has a crescent shape of an Isthmus, full of sand and crystal clear turquoise water. In Kythnos, we had the pleasure of staying at a newly renovated hotel, at the port of Loutra, called Kythnos Bay Hotel.
Kythnos Bay hotel is a beach front property with a picturesque gulf view and is just 200 meters away from the Thermal Spa waters that many people from all over the place come to experience and heel themselves. The hotel looks amazing. When we entered the front door, we came across a newly renovated place with contemporary furniture and fresh colours. The big fashion and travel books on the coffee tables kept as company as we waited to be guided to our room. Mostly white and blue are the colours that characterise its interior. Our room had an amazing view over the beachfront of Loutra. Actually, most of the rooms look at the sea, so anywhere you stay is lovely. Wi Fi, TV with many channels to be on top of things and AC were extra necessities at this pretty hotel that we enjoyed.
The next morning, after the rich buffet with the traditional marmalades and the freshly baked bread, we had the chance to experience the hotels' spa treatment. A massage was exactly what we needed after our trip. It is crucial to say that in the older days, king Othon and queen Amalia of Greece used to come to the island to experience the thermal water that comes out from the natural springs of the island. So, it is essential to do that while here …
In the evening we decided to visit the main village of Kythnos, Chora. In Chora, we had delicious locally produced meet at Detzi's place and super tasty and colorful cocktails at Panochora, all of them created by the mixologist Spiros Psarras. A lovely store to make our shopping spree there, was Passou store. But our favourite one was in Mericha, the place where the boat left us when we arrived in Kythnos island, and it was called Mavro Provato. Arias delicacies in Agia Eirini and Ladokola in Loutra, where two other hotspots, as far as local delicacies are concerned that you need to visit before departing from the island!
What you need to know about the island is that many little chapels and churches are everywhere. We counted more than 50 while going from place to place. The scenery is magnificent. Kythnos Bay Hotel was exactly what we needed in Kythnos in order to have the happy Greek holiday everybody who is a Sun-chaser loves!
Kythnos it is then …