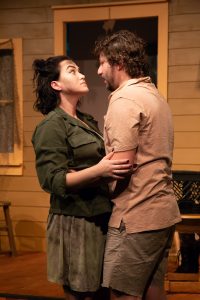 "Apocalyptic is the zeitgeist" is an insufferably pretentious but honestly pretty accurate sentence I said to a friend recently. With the threat of nuclear attack looming from both Iran and North Korea ("comprehensive" summit deal or no) and a Commander-in-Chief with all the diplomacy and judgement of an especially self-centered toddler, doomsday is in the air. So it's no surprise, then, that Cuckoo's Theater Project, a young storefront company whose production She Kills Monsters blew me away this spring, chose Barbecue Apocalypse by Matt Lyle for its latest production.
Set in the backyard of a typical thirtysomething American couple, the play starts as something like a comedy of manners: over-the-top characters with wildly different lifestyles and worldviews clash in a whirlwind of anxiety, cockiness, naïveté, and Internet addiction–all of it gut-bustingly funny. We meet Mike, a struggling writer; Deb, his (overly) eager-to-please wife; Lulu, a quintessential hipster; her husband Ash, who is always glued to his phone; Win, an arrogant asshole; and his girlfriend Glory, a beautiful and remarkably ditzy actress.
Initially, the conflict seems to be the various tensions among the characters–but as Ash keeps irritatingly pointing out, trouble is a-brewing on Twitter, and before the night of revelries is over, the apocalypse has descended. Act Two finds the characters in a post-apocalyptic world, about a year in and mostly adapted to their new circumstances.
What I found most interesting here, besides the amount of comedic relief that came from a show with an ostensibly heavy subject matter, was its commentary on toxic masculinity. Win, Mike's childhood friend, is constantly giving him grief about his lack of traditional "success": Mike has only ever built a deck and published a single short story (no mean feat, by the way), while Win is a businessman with loads of money and gorgeous women falling at his feet. Win insists at several points in the show that Mike is not a "real" man like him, and he rails against government "handouts" to a porch full of skeptical liberals.
In Act Two, we find a very different Win. Turns out, his business skills are of no use in the business of post-apocalyptic survival. He survives only through the kindness of his friends, Deb (who adapts surprisingly well to a hunting-and-gathering lifestyle) and Mike, who has finally found his purpose in telling stories to his friends and giving them comfort in the face of a bleak environment. Win falls into a deep depression without society to validate his worth, and it is he who must ultimately accept handouts in the end.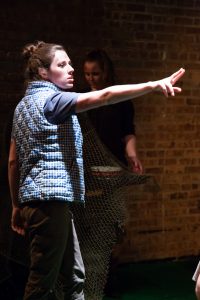 At its core, this is a play about identity. Who the characters are and how they view themselves changes radically within a drastically altered landscape, and how they cope with those truths becomes what ultimately defines them. The play asks us to question what it means to be a "man"–or a woman, or any type of person in the world. How much of who we are is defined by our circumstances? When we are stripped of societal expectations and forced to fight for survival, how much of who we consider ourselves to be will survive–and what might surface that we don't expect?
Barbecue Apocalypse is a riotously fun show interwoven with important questions, fabulous acting, and design work that creates a truly unique world. The apocalypse could happen at any minute; get yourself to this show before it's too late.
Ticket Information
Locations: Prop Thtr, 3502 N. Elston Ave, Chicago, IL 60618
Dates: June 18 – July 21, 2018
Times: Fridays at 8pm, Saturdays at 8pm, and Sundays at 3pm.
There will be no show on Sunday, June 24. Additional performances are on Thursday, June 28 at 8pm; Saturday, July 14 at 3pm; Thursday, July 19th at 8pm; and Saturday, July 21st at 3pm.
Tickets: Tickets are available by calling 312-882-8201 or at The Cuckoo's Theatre Project website.
Arts Access Tickets Available at Each Performance.
All photos by Zen Orchid Photography.