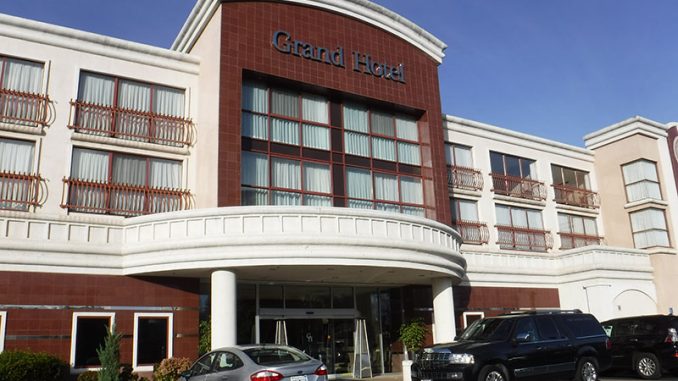 In truth, The Grand Hotel Sunnyvale is pretty much on the beaten path but not the path where I would expect to find a boutique hotel, surrounded as it is by hotels that are part of chains. In fact, Silicon Valley boasts two independently owned, boutique hotels- the other is the Cupertino Hotel.  A virtual concierge and Alexa's"  serve each hotel, a special attraction that could not be more perfect for "the Valley".
My friend, who lives in Sunnyvale, told me that her sister always stays at the Cupertino Hotel when she visits and she loves it. But, my friend also said the Grand Hotel had been renovated more recently and was closer to where she lives, so my husband and I took advantage of an opportunity to stay at the Grand. We were just there for one night but it was grand. Even though the time was short, it provided relaxation and renewal. The hotel is perfectly located for anyone visiting for business since it is near Googleplex in Mountain View and not far from the Apple Campus in Cupertino. But the visitors that I spoke with at breakfast were visiting family, and were very pleasantly surprised with the hotel since they booked online.
As we approached the hotel, we noted it was simple find, not far from the highway. Parking was very easy. The lobby is gorgeous and the receptionist was efficient and helpful. And, very surprising was the tray of Champagne filled glasses that were very festive and put us in the mood for the happy hour that began soon after we settled into our room.
Entering our suite, we "ooed" and "aahed". It was sleek, huge and gorgeous. We loved the fireplace since the weather was cool. My husband loved the TV set up. A small box held the monitor and a clear guide to all of the available channels that included the largest selection of HBO and cable channels my husband had seen at a hotel.
I was delighted with the bathroom that was large and included two sinks a huge tub with Jacuzzi and a wonderful walk in shower. Care was taken for safety with grab bars in just the right places. The body care "goodies" were lovely and included a very pleasant body wash.
A bar space between the living room and bathroom had wine to purchase but, also the makings for complimentary coffee and tea. The nearby closet was generous and contained a safe. The bedroom was wonderful and we liked the drawers that opened easily and closed themselves. The wi-fi worked well.
Soon after arriving I wanted to see how the virtual concierge worked so I requested a toothbrush. A short time later, the phone rang and I was told to open the door for Jarvis, who is made by Savioke, I followed instructions and there was Jarvis with my toothbrush. I removed it and pushed the button to say I had what I wanted. Goodbye was on Jarvis's printout and Jarvis turned around and headed for the elevator to return to the lobby where he "lives".
Both hotels are also equipped with Volara, also known as "Alexa" which is a voice command tool that can, upon voice request, ask directly , "Hey alexa, what it the weather today, what is the temperature in x,y,z city?", "How do you say pineapple in French?", "can you get me towels,and a toothbrush?" What time is it in New York?" etc…etc… It's acts as your voice activated friend that speaks with you, and make easy to ask info from the front desk, get a reminder, or an alarm etc… it's your true friend that can even give you jokes……. :), kind of like Siri or Google.
We headed to The Happy Hour were impressed with the food offerings and drinks that were available. Some guests were swimming in the pool.
We had dinner with our friends in downtown Sunnyvale at their favorite restaurant, which is Kabul. We had a lovely evening. There is a shuttle at the hotel which delivers guests to locations within 2 and a half miles of the hotel so, had we been without a car, we could have been dropped off there and picked up again.
We slept well on the large, very comfortable bed and awoke rested and ready to sample the full, hot breakfast buffet that our friends had told us about. It was a wonderful breakfast with made to order eggs as omelets or fried, waffles, pancakes, fruit, juice, coffee and on and on. Guests were enjoying one another and there was a very pleasant atmosphere. And then it was time to leave but we felt as though we had been on a mini- vacation.
More about the Grand Hotel Sunnyvale:
-The hotel boasts 104 guest rooms featuring 70 over-sized deluxe rooms, 30 private villas, 4 executive fireplace suites.
-24-hour room service
-Same day laundry and dry cleaning service
-24 hour business center with complimentary printing
-Passes to 24 Hour Fitness
-Pet-friendly
-Car service to the San Jose International Airport – $20.00 per person and San Francisco Airport – $100 per person.
All photos: B. Keer
More information about