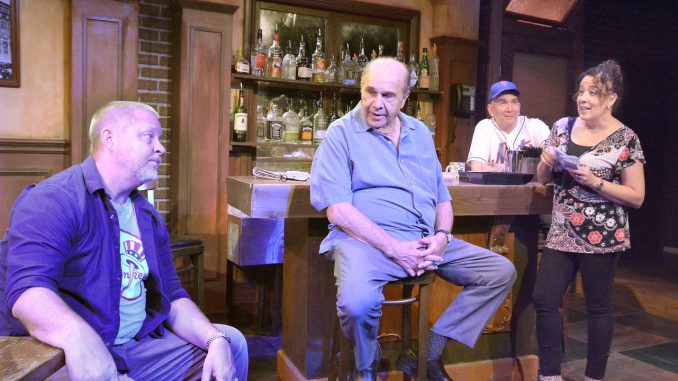 Playwright Ian McRae has nailed it: these are not characters from a play but folks walking around the neighborhood and stopping by the local gin mill for a quick one. Bay Ridge is a blue-collar Italian-American neighborhood in Brooklyn with no aspirations for greater things. Until, that is, this insulated "city within a city" is discovered by the young and hip millennial set. And war is declared.
THE ALAMO is the watering spot for the local denizens of Bay Ridge. It's been there for years; and, even though showing signs of advanced age, it is still the preferred hangout for the guys. But Munce (Tim True) and his wife Carmen (Eileen Galindo) have decided to grow with the times. They plan to spruce up the old bar, add some entertainment and fruity drinks, and welcome the newest kids on the block into their midst. Joey (Bobby Costanzo), the poster boy for the old crowd, is the vocal spokesman for the way things used to be – and he's not giving up without a fight. Joey will never be considered a politically-correct leader, but he is a lot of fun.
There are lots of secrets in this crowd, and each is a fascinating glimpse at how the salt-of-the-earth locals deal with death, envy, love, and stress. First, let's look at Micaela (Kelsey Griswold), who's at loggerheads with her widowed mother, still mourning way past her husband's unexpected 911 death. Mama Mary (Milica Govich) spends most of her time downtown at the 911 memorial but manages to pull it together just enough to keep insisting their Micaela give up her painting business and go to college. Fur will fly when Carmen hires Michaela to pretty up the old saloon.
Then there's Tick (Jack Merrill), who is keeping some heavy-duty secrets from his wife Claudine (Nancy Georgini). In fact, everybody in this merry mix has some long-hidden mysteries – and a few skeletons longing to escape the closet. Director Ken Thompson has done an excellent job of weaving all these disparate threads into a poignant – and also very funny – tapestry. THE ALAMO is about real people, carrying on in life the best way possible – each with just the right amount of surprises to draw lots of laughs from the audience.
THE ALAMO is blessed with an excellent cast who ably breathe life into these stimulating and sometimes unpredictable people. They epitomize the comic in what could be tragic. John Iacovelli's set design is clever and beautifully detailed. The audience may even want to slip up to the bar for a drink. Emily N. Smith's costumes amply reflect their inhabitants. Edward Salas' lighting and Chip Bolcik's sound make for a fully realized picture of this one small corner of the world.
THE ALAMO runs through March 31, 2018, with performances at 8 p.m. on Fridays and Saturdays and at 2 p.m. on Sundays. The Ruskin Group Theatre is located at 3000 Airport Avenue (at the Santa Monica Airport), Santa Monica, CA 90405. Tickets range from $27 and $30. For information and reservations, call 310-397-3244 or go online.