Written and performed by Del Shores, SIX CHARACTERS IN SEARCH OF A PLAY delves into the author's life as he tells all about six one-of-a-kind characters he met in real life but couldn't squeeze into one of his plays, films, or television shows. Del Shores, a "minor celebrity in the gay community (to quote the author)," has a long career writing, directing, and producing successful films, theater plays, and television works, including Sordid Lives, Yellow, Queer As Folk, and Touched By An Angel.
He has gained fame through stand-up national tours, with SIX CHARACTERS IN SEARCH OF A PLAY representing his latest entry into solo comedy. Del Shores lets the audience into his eccentric encounters with a bunch of unforgettable folks. Yvonne (pronounced Why-Von) is an anti-vegetarian Dallas diner waitress who just can't keep her opinions to herself. Sarah is an elderly actress who has an inhaler in one hand and a cigarette in the other, all the while letting you know what she thinks of Trump – and all other Republicans for that matter. The half dozen wouldn't be complete without Jimmy Ray, a Georgia redneck, and Marsha, a monkey-hating lesbian whose wheezes are replacing words.
Despite Del Shores' travels to places far and wide, he ultimately arrives back home in Winters, Texas, where most of the population of 2562 now reside in the town cemetery. Just the right place to resurrect memories of his mother Loraine, a drama teacher who aged into crazy with an obsession for porn, his preacher father who never quite understood his wife, and Aunt Bobby Sue, a lovable racist Republican who decides to treat gays just like normal people. His reminiscences prove alternately hysterical, poignant, and rough. As Daily Variety opined, "Del Shores is the grand master of Southern lowlife sensibilities."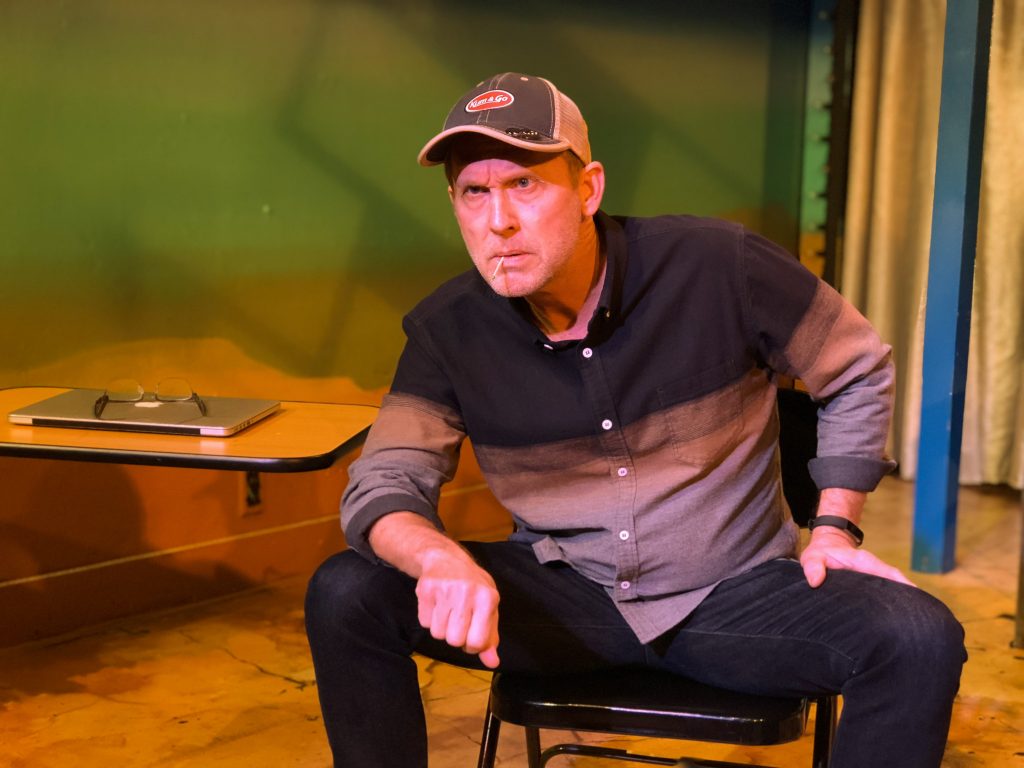 Del Shores manages to bring to life six characters and lots of recollections and reflections, some sad, some funny, and some not fitting into any box. In 90 minutes, he describes a life well lived and abounding with the hilarious, peculiar, unconventional, and downright quirky. So get ready to chuckle your way through his life and times. Audience Alert: Some of Del's language might not pass the Sunday School test. Directed by Emerson Collins, SIX CHARACTERS IN SEARCH OF A PLAY lets the audience share in the fun-filled, off-the-wall experiences of a master writer with the credentials to prove it. The set is simple: there is none. Del simply moves around, now and then sitting on one of three metal chairs or putting a few photos on an easel. After less than a minute, the audience becomes aware that he is a master storyteller too – and that anything to embellish his words would be superfluous.
SIX CHARACTERS IN SEARCH OF A PLAY runs through March 27, 2018, with performances at 8 p.m. on Mondays and Tuesdays, with an additional performance on Sunday, March 25 at 7 p.m. and no performance on Monday, March 5. The Celebration Theatre is located at the Lex Theatre, 6760 Lexington Avenue, Los Angeles, CA. Tickets are $25. For information and reservations, call 323-957-1884 or go online.