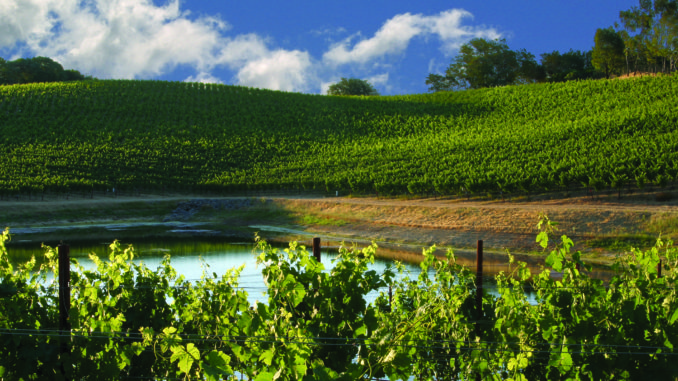 Two significant dates stand out on my calendar for September.  Summer exits and Autumn makes its formal arrival on the 22nd. The second date is Rosh Hashonah, on the  20th, marking the start of a holy week of new year's observance for Jews worldwide. Wine figures prominently in the first instance and normally in saying goodbye to summer.
I grew up celebrating the Jewish holidays with the thick treacly sweet syrupy Kosher wine made from the native concord grapes in New York state.  Sometimes, for old times' sake, I serve one of those, but we've been more fortunate than our parents when it comes to fine wine. I'm torn this year between two products of Israel's outstanding wine producers.
2013 Endeavour, Cabernet Sauvignon, Photo: Courtesy of Dry Creek Vineyard
WINES FROM THE HOLY LAND
The first is Bravdo Coupage 2014, just now beginning to show its potential. A blend of 40% Cabernet Franc, 33% Shiraz, and 27% Cabernet Sauvignon, it is a solidly structured deep, dark flavor bomb, with lush scents of berries and bitter chocolate and strong enveloping berry and chocolate lingering on the palate. It's a mouthful of good and will be even better after a half dozen years in bottle. Average price (AP) $33.
The second kosher wine, also a product of enlightened viticulture in Israel, is Psagot Edom 2013. It's largely Merlot—62%–with equal parts of Cabernet Sauvignon, Cabernet Franc and Petit Verdot. It is rich and intense with a fine-tuned balance of those three wines and the finish is smooth with soft round tannins. AP $35.
ROSE FOR ALL SEASONS
For what might be the final opportunity to dine al fresco, you might pull up an inexpensive vino verde from Portugal, Casa Garcia  sparkling rose' It's tiny bubbles are persistent, sending out aromas of wild fruit, berries and strawberries. Well tamed acid tones bolster those fruit flavors that dress the palate.    This one, at an average retail price of $8, is a real bargain.
As autumn leaves begin falling, it's time to look at more serious wine. For a white with good body, I would seek a Sauvignon Blanc and the Australian house of Kim Crawford comes to mind. The 2016 shows all the characteristics that made Australian Sauvignon Blanc the standard for producers. It's got that traditional grassiness and flinty flavors, hints of lychee and great acidity that goes well with fish and seafood of all types. AP $15.
CALLING OUT THE BIG GUNS
As winter approaches, it is natural to pull out the big guns, red wine to go with heavier food. Choices abound on the red side. I've long been a fan of wines from Grgich Hills. The 2014 Cabernet Sauvignon, recently released, is laden with aromas of tobacco, leather, and a hint of vanilla. An elegant big red, it shows some earthiness and well-balanced alcohol. Tannins are present, but are gentle, and they promise to contribute to a long life for this beauty. AP $70.
I find myself tending toward the less flagrantly overpriced, over-hyped Cabernet Sauvignons. Kenwood Vineyards in Sonoma produces several outstanding Cabs and the 2012 Artist series bottling is a standout. The wine is elegant with   cassis, black cherry, vanilla, and violet on the nose.  It is a big rich wine, generous and earthy with signals that it will last several decades. It's a keeper and reasonably priced for a wine of this stature. AP $80.
I seem attached to Cabs from Sonoma, even though Napa is regarded as fielding the best examples. Dry Creek's 2013  Endeavour could sit happily on the table with a fine Bordeaux. It is a serious, rich, concentrated, solidly built wine, one of power and finesse. The nose receives notes of cedar and black cherry, which translate on the palate to dark fruit, black currants, and silky-smooth cherries.   It's a mouthful that would be hard to experience without discussing its intensity, its dark fruit flavors, tones of chocolate and leather and its lengthy finish. A memorable wine, it sells at an average price of $67.