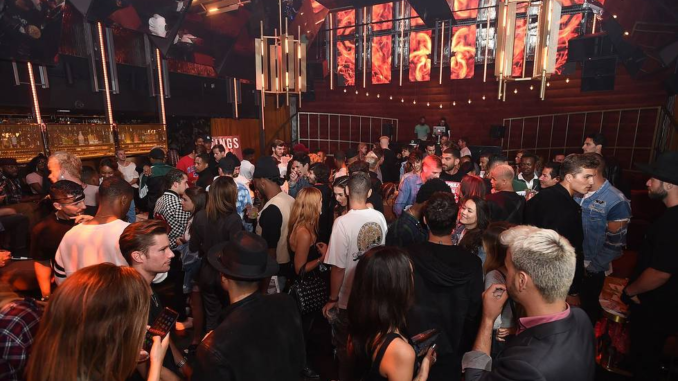 London-based fashion magazine, TINGS hosted a "Secret Party" on Wednesday, August 23 to debut the release of their premiere issue celebrating cover star Cameron Dallas. Presented by Pretty Little Thing, the private party was held at West Hollywood hotspot, Nightingale serving cocktails by White Tiger Vodka and Peroni Beer.
Stepping out hours before her 19th birthday, model, Sofia Richie played host for the evening at the TINGS London Magazine Launch Party.  The daughter of famed musician Lionel Richie arrived and tweeted to her fans that she's excited to celebrate another year, "I love my life. Feeling good about this birthday. Thankful for every day." Rapper, Machine Gun Kelly entered the packed party in high spirits with a group of friends as they made their way to the VIP section. Fresh off her recent surgery, musician, Rita Ora turned heads arriving at the TINGS London Magazine "Secret Party". The pop star seemed unfazed after the recent procedure rocking classic Adidas trainers as she stepped into the party with a group of friends. Ora was greeted by founder of TINGS Magazine, Vas J. Morgan and galpal Sofia Richie as they snapped photos throughout the night. Actress and London girl, Ashley Madekwe was in attendance spotted in deep conversations with "Mad Men" actress, Kiernan Shipka. "Vikings" star Alexander Ludwig kept a low-profile sporting a baseball cap alongside girlfriend, Kristy Dawn Dinsmore. The two arrived hand-in-hand and couldn't take their eyes off one another throughout the evening. Other notables include Neels Visser, Matthew Noska, Glen Powell 3and Arianny Celeste.
The event brought out celebs such as: Rita Ora (Singer), Sofia Richie (Model), Machine Gun Kelly (Rapper), Kiernan Shipka ("Mad Men"), Ashley Madekwe ("Salem"), Alexander Ludwig (Actor), Neels Visser (YouTube Personality), Matthew Noszka (Model), Glen Powell ("Scream Queens"), Arianny Celeste (UFC Ring Girl), Carter Jenkins ("Famous in Love") and many more to celebrate the occasion.