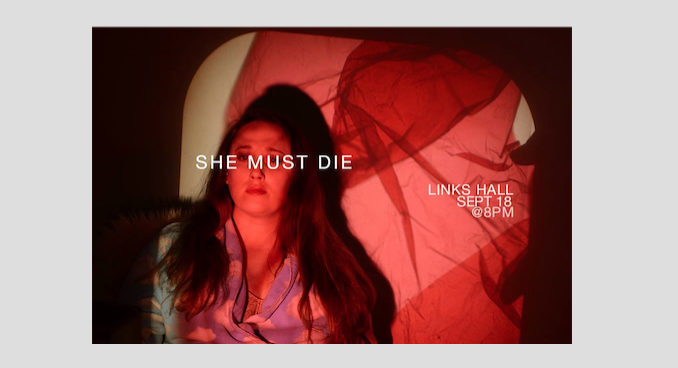 Earlier this month, I had the opportunity to speak with Dylan Bandy and Brittany Loewen who will be bringing their show, SHE MUST DIE, to Chicago's Links Hall on September 18th. Read on to see what they had to say about the show, how it came about, their influences and more.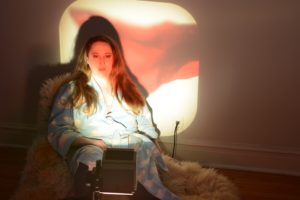 Andrew DeCanniere (AD): To begin at the beginning, for those who don't already know, what is your show SHE MUST DIE about — and, for that matter, how did it come about?
Dylan Bandy (DB): So, Brittany and I went to college together. We went to Indiana University and we both studied Voice Performance there. And we became friends. Then, we went off and led our lives and came back together years later.
I've always wanted to work with Brittany. She's such an amazing talent. This piece was based in wanting to do something around our friendship, but also wanting to do something that incorporated an old-school nineties overhead projector, which I love as an aesthetic quality. From that, this idea of looking at soprano arias wherein the soprano dies — that became something of a theme or trope that we wanted to lean on and deconstruct. It's well known that in opera — especially in Puccini and Verdi — that the soprano dies in the end. So, we wanted to play with that, since it is such a worn-out story.
With regards to what it's about, it's built around four arias that are the pillars of the piece. We use those as the structure, and then build in other scenes around that which provide more context and, honestly, more feminism — to the piece. So, it's about this character that continues to die over and over again, and then it's also about the ways in which we have systematically oppressed women over time. It loosely explores witch hunting, it loosely explores herbalism and family planning, and it explores morality and how amoral or immoral women often have to die — especially in these old narratives, though you'll still see that today, on TV or whatever.
AD: Sounds like an intriguing means of exploring some of those issues. Delving into your own backgrounds a bit, you said that both of you studied voice performance.
DB: I tried to be an opera singer for a number of years after I finished my undergrad. I moved to Berlin. I was auditioning there. And then, one day I looked back and saw that I had been doing more and more of these collaborative projects and experimental projects — that moved me more into the conceptual art and performance art realm, and towards directing.
Brittany Loewen (BL): After I graduated from Indiana University, I moved out to Chicago to pursue auditions and then decided to go to grad school at Roosevelt University. I ended up getting into Roosevelt's Young Artist Program with Chicago Opera Theater where I played the First Witch in Ernest Bloch's Macbeth and Branghien in the The Love Potion at the Music Box. I also won the concerto competition at Chicago College of Performing Arts, and performed Luonnotar by Jean Sibelius at the Harris Theater. And then after graduating, I became a founding member of Forte Chicago, which is an all-female operatic improv group.
Similar to Dylan, I have felt limited by the female characters in opera at times and have been craving a context where I could bring these women and their beautiful music to life in a way that felt relatable to me — with this voice that I am so happy to have, and which I have worked at my whole life. So, Dylan challenges me physically and emotionally to produce fresh authentic characters. And with SHE MUST DIE we get to combine a couple mediums, which is so exciting.
AD: I know that, at times, it can be rather difficult to narrow it down, but who would you count among your influences?
DB: Well, for me there's Keith Hennessy's performance and installation "Crotch (all the Joseph Beuys references in the world cannot heal the pain, confusion, regret, cruelty, betrayal, or trauma…)" which I love for its perfect balance of emotional expressiveness, intellect, humor, and abstraction.
I would also be remiss not to mention my great love of and admiration for Alex Grelle and The Grelley Duvall Show. My roommate and bandmate and the other half of Laura Dern, Cydney Asher, she and I just both love Alex Grelle and his work. I can't say I see a direct link between his show and SHE MUST DIE, but he is a local performing artist that gives us a lot of inspiration and life. Again, a sort of permissiveness around being abstract while bringing something more visceral to the forefront. What about you, B?
BL: I'm definitely a Maria Callas girl. I grew up listening to all different singers, and I have much respect for many singers, but she is definitely the be-all-end-all for me. I just love her. I saw an old video of her when I was young. She was performing in a small space, and she didn't move that much, but the authenticity of her expression was just so moving. I fell in love with her.
AD: And last, but not least, is there anything else you'd want to add with regards to the production?
DB: The only other thing I would say is a big thank you to all of our collaborators. While it is largely just the two of us producing, we have great people around us, Cydney Asher and Adam Cohen-Leadholm on guitar. Alyssa Arrigo on piano.  Will Huff has arranged a piece for guitar and piano — which is very exciting. We have a wonderful documentarian, Zoe Lubeck, who will be joining us. My good friend Sara Benton did the promotional photography. Roelle Schmidt and the whole team at Links Hall have been wonderful. Amy Wood at Unity Lutheran has been so kind and warm with us. It's just a great pleasure to get to make it and have people involved in its success. And it'll sell out. So get your tickets.
Additional Information:
What: SHE MUST DIE 
When: One night only – September 18, 2017 at 8:00 PM
Where: Links Hall at Constellation, 3111 N. Western Ave., Chicago, Illinois
For more information, please see the SHE MUST DIE Facebook page here. Tickets to this performance are available here.