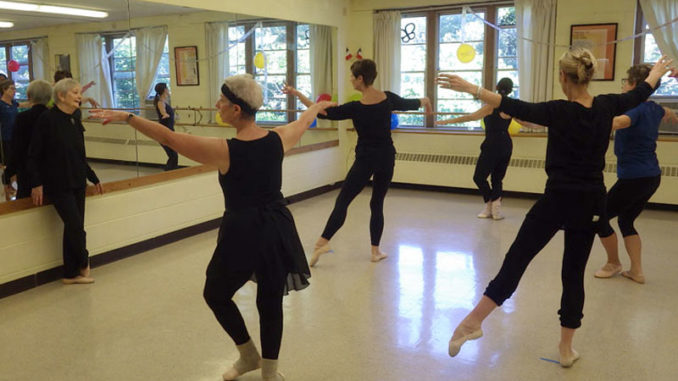 It was 1977 and my neighbor and I thought it would be interesting to try out a ballet class that was being offered by the Evanston Park District.  Neither of us knew that the class would be engaging enough to keep both of us coming to the class for forty years. That was the impact that Lilette Rohe, ballet teacher extraordinaire, had on our lives and many hundreds of other lives.  Christy Jones, a long time student, noted that, "She gave something to every student that came to her class." (After a short time with the Evanston Park District, Lilette opened her own studio on the second floor of a church.)
——————————————————————————————————————–
Lilette Rohe (1921-2017)
During the economic doldrums of the mid-1970s, after her husband had lost his job and still with mortgage payments to make and two children still in school, Lilette Rohe remembered sitting on her stoop and thinking, "What am I going to do?"  A neighbor suggested that she return to her first love: ballet.
Mrs. Rohe, who ran Lilette Rohe School of Ballet in Evanston for over 40 years, died August 4 after a brief illness, at 96.  Today her students remember her as not only a dance teacher, but as a beloved confidante, cultural mentor, friend and an inspiration.
Mrs. Rohe was born in Paris to an American father, Lewis Dabney Crenshaw, and a French mother, Jenny Robert.
She began dancing in Paris and eventually studied under Russian Imperial Ballet star Lubov Egorova, who featured Mrs. Rohe in her company, Les Ballets de la Jeunesse.  After fleeing France with her family in 1939, she danced with the Metropolitan Opera Ballet and the Corps de Ballet of Radio City Music Hall.  Her years at the Metropolitan Opera in New York City and on tour, she would later recall as being some of the happiest of her life.
In addition to dancing on stage with the Met, Mrs. Rohe was also expected at times to act as a supernumerary, as when she was asked to be the body double for Gilda in Rigoletto, because the soprano was too heavy to carry.
Leaving her dance career to raise a family, Mrs. Rohe was never far from ballet, giving classes to children in rooms above the public library in Kingston, RI.
At its peak, Lilette Rohe School of Ballet in Evanston offered 10 classes a week to over 100 students, ranging widely in age and experience. A number of students went on to dance with some of the best-known companies in the United States, like New York City Ballet and American Ballet Theater.
She was teaching four classes a week until a month before her death.  Her final session of classes included "regulars" (adult students, many of whom had been taking classes at the school for decades), new adult students, and two returning students, one a lawyer who had studied with Mrs. Rohe as a child.
Mrs. Rohe kept her school small and her classes affordable which was in line with her belief that ballet should not be an elitist activity, and that as a teacher it was her duty to offer a cultural service to a wide range of students.
According to her students, that cultural service will endure because, as one put it, "Her love of the arts–ballet, opera, literature–has been instilled in so many. The loss, however, will be profound.  As another student recalled, "She probably taught me more about life than ballet."
Lilette Rohe is predeceased by her first and second husbands, Robert Parker Sorlien and Paul Rohe, and survived by her four children: Janet Sorlien Wolf (of Raleigh, N.C.), Parker Sorlien (of South Kingston, R.I.), Christopher Rohe (of Evanston, IL), and Gregory Rohe (of Nagoya, Japan), two grandchildren and two great grandchildren.
Services have been held.  Donations to Mrs. Rohe's favorite institutions are encouraged:
Medecins Sans FrontieresWinslow Public Library (Winslow, AZ)
You may want to inform the family –
Janet Wolf
284 Fieldtrial Circle
Garner, North Carolina 27529
——————————————————————————————————————–
In Lilette's ballet class there was talk of opera, plays, music, restaurants, people, books and more. Lilette loved books. She actually worked in a library, in Port Washington, New York, for two years in the late 50's.  One member of the ballet class is currenly working at the Evanston Library and made sure to find books that Lilette requested, even when her eyesight became a problem.
Each year in September, the ballet studio would morph into a setting for a birthday party for Lilette.  Last year was her 95th birthday and the celebration was joyful. Her memorial was a celebration of her life in the ballet studio.
Others remembered Lilette:
"I first met Lilette as a precocious five-year-old who was not willing to be told what to do.  So, I took a break from ballet for over a decade until I was reintroduced to her in high school by a friend.  By the end of my studies at Northwestern I was seeing how I could fit my academic courses around ballet classes.  I've been going back ever since, through three kids, other joys, and lots of hardship.  Through it all, Lilette was a constant source of love, humor and wisdom.
I will always love Lilette deeply.  She was unconditional in the support of her students, and her wisdom about dance and life was beyond measure.  She lived her life with grace and compassion, topped off with a generous sprinkling of sass and I can only hope to influence as many people as she has.  Her last words to me were lovely and I will never forget them…or her."
Katrina Engel
"Lilette cared so much about dance, she made it infectious.  She made special connections with each one of her students as well.  She was well read, opinionated in a good way, and had very high standards for all her students.  Even as she became frail, she never compromised her expectations of her class.  Even as she became blind, she still corrected her dancers.  She was a loving mother, a good friend and a beautiful dancer to the end,  The class would often break into spontaneous applause when she showed combinations."
Patti McConnell
"Like everyone, am just so sad.  LIlette meant so much to me in so much to me in so many ways.  I loved her and her family almost as much as my own. She taught me so much–and not just about dancing!  I hope I can keep forever in my mind the image of her walking into the studio, putting on her little ballet slippers, going to the barre, and beginning class.  I am so thankful to have had her in my life for so many years."
Christy Jones
"I'm sad and grateful and finding it hard to get used to the idea that she's gone. I think about all the losses that Lilette experienced in her lifetime and how after each one she went back to the barre and gave a class."
Freddie Levin
Photos: Courtesy of The Rohe Family unless otherwise noted.